Getting clear on clarity
One of my clients wants my help.  She is looking for clarity.
She wants clarity so she can make a decision and take action.
But I told her she needs to make a decision and take action to get clarity.
Clarity isn't something we are entitled to.
It's not a luxury we get from thinking really hard.
In fact, the more we think without action, the less clarity we have.
Our brain likes us to "confuse".
Our brain thinks inaction is safer.
My job, as a coach, is to drive you to take action.
I want you to be as uncomfortable as you can tolerate.
I have found that if you aren't uncomfortable, you most likely aren't doing anything that prompts growth.
When you make a decision, you won't feel clear.
Most likely, you will feel doubt.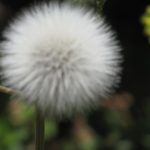 What that means is that you are deciding something important.
And as you decide, you move forward and your destiny is shaped.
Oh!  And don't change your mind.
Unless it propels you forward faster, don't second guess yourself.
You've got this.
(thank you Brooke Castillo)